Special Agent Stark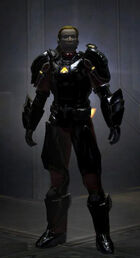 Overview Edit
Special Agent Stark is a contact in Crucible. He is an agent of the AFS black-ops division known as Penumbra. He is involved with the creation of Thrax Hybrids.
Location Edit
Missions Edit
Dialogue Edit
Special Agent Stark:
Nobody cares about eugenic techniques like gene splicing if it's being used on plants and animals to advance medicine or food production, but suggest that these techniques be used to better our race, and suddenly you're labeled a monster. People think eugenics is evil because some crazy regime once tried to create a master race. Does that make it evil? If Galileo had been a mass murderer, would that prove the world was flat? I don't think so.
Community content is available under
CC-BY-SA
unless otherwise noted.