Logos tablet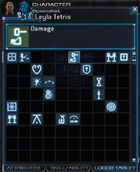 The Logos tablet - also known as the Tabula - is a table of all Logos elements known to a character, representing the Logos knowledge in his head.
To access the Logos tablet open any pane of the Character window, then click the "Logos tablet" tab at the bottom right or simply press "J".
The tablet currently has 10 columns x 39 rows, with the bottom right element missing. This makes a total of 389 logos elements, of which 169 (as of 12/07) are currently in the game.
Table of Logos Elements
Edit
In the following table, linked logos are in the game and obtainable, though some are bugged and require GM assistance to actually acquire. Plain text logos without a question mark are taken from the logos dictionary on the official Tabula Rasa site. Plain text logos with a question mark are conjecture based on similar logos and their positions in the logos alphabet.
Community content is available under
CC-BY-SA
unless otherwise noted.