Ista Kezever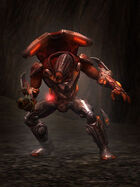 Ista Kezeveris a Thrax Grenadier boss located near a downed dropship. He is holding the Penumbra Flight Recorder that is needed for the mission Black Helicopters and counts as a Bane Officer towards the Mires Targets of Opportunity.
Location
Edit
-480.1 - 349.9
Missions
Edit
Community content is available under
CC-BY-SA
unless otherwise noted.