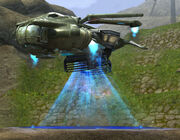 Overview
[
]
The C-6801 Hedgehog dropship is a means of travel within Tabula Rasa. There is usually one player-usable dropship landing area in each zone, at a base, though some zones have more. These dropships transport you from zone to zone on one planet.
Usage
[
]
You must walk over a dropship pad to active it. Once activated, that character can always teleport back to that zone via another dropship.
Once you walk over the dropship pad, a menu will appear showing what other zones you have unlocked. If you wish to travel from base to base, use a teleporter instead.
Dropship network
[
]