Bio Armor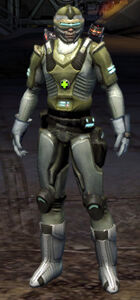 Bio Armor is an armor of the Biotechnician class. It requires the Bio Body Armor training.
From the description of the training:
"Allows the use of Bio Body Armor. Bio Body Armor enhance the natural tissue regeneration of the wearer and all nearby squadmates. Healing speed is improved with better training and is based on the number of pieces Bio Body Armor worn."
Damage Absorption Rating: Good
Body Armor Recharge Rate: Excellent
Damage Bleed-Through: Very High
Training progression
Edit
Level
1 (I)
2 (II)
3 (III)
4 (IV)
5 (V)
Name
Novice
Layman
Expert
Master
Elite
Description
Each level of skill improves the natural health regeneration rate of the wearer and nearby squadmates. Total regeneration improvement is based on the number of pieces of Bio Body Armor worn.
Health Regeneration Bonus per piece worn
2%
4%
6%
8%
10%
Regeneration Bonus Radius
5 meters
10 meters
15 meters
20 meters
25 meters
Armor progression
Edit
The table below lists the armor values for each level, piece and quality of Bio Armor. Some of these values are predicted and may be off by 1 or 2 points, so feel free to correct any inaccuracies. Always be sure to only enter the values from fully repaired armor.
Level (Part)
Standard
Modified
Experimental
Prototype
15 (Head)
273
327
382
437
15 (Torso)
409
491
573
654
15 (Hands)
136
164
191
218
15 (Legs)
341
409
477
545
15 (Feet)
204
245
286
326
15 (Full Set)
1363
1636
1909
2180
20 (Head)
420
505
589
673
20 (Torso)
631
757
883
1009
20 (Hands)
210
252
294
336
20 (Legs)
526
631
736
841
20 (Feet)
315
378
441
505
20 (Full Set)
2102
2523
2943
3364
25 (Head)
648
778
908
1037
25 (Torso)
973
1167
1362
1557
25 (Hands)
324
389
454
519
25 (Legs)
811
973
1135
1298
25 (Feet)
486
584
681
778
25 (Full Set)
3242
3891
4540
5188
30 (Head)
1000
1200
1400
1600
30 (Torso)
1500
1800
2100
2400
30 (Hands)
500
600
700
800
30 (Legs)
1250
1500
1750
2000
30 (Feet)
750
900
1050
1200
30 (Full Set)
5000
6000
7000
8000
35 (Head)
1542
1850
2159
2468
35 (Torso)
2313
2776
3238
3701
35 (Hands)
771
925
1079
1234
35 (Legs)
1928
2314
2699
3084
35 (Feet)
1157
1388
1620
1851
35 (Full Set)
7711
9253
10795
12338
40 (Head)
2378
2854
3329
3805
40 (Torso)
3568
4282
4995
5709
40 (Hands)
1189
1427
1665
1902
40 (Legs)
2973
3568
4162
4757
40 (Feet)
1784
2141
2498
2854
40 (Full Set)
11892
14270
16649
19027
45 (Head)
3668
4402
5135
5869
45 (Torso)
5502
6602
7703
8803
45 (Hands)
1834
2201
2568
2934
45 (Legs)
4585
5502
6419
7736
45 (Feet)
2751
3301
3851
4402
45 (Full Set)
18340
22008
25676
29344
50 (Head)
4000
4800
5600
6400
50 (Torso)
6000
7200
8400
9600
50 (Hands)
2000
2400
2800
3200
50 (Legs)
5000
6000
7000
8000
50 (Feet)
3000
3600
4200
4800
50 (Full Set)
20000
24000
28000
32000
Versions
Edit
Bio Armor is available in the following versions:
| Version | Boots | Gloves | Helmet | Legs | Vest |
| --- | --- | --- | --- | --- | --- |
| 1 | | | | | |
| 2 | | | | | |
| 3 | | | | | |
| 4 | | | | | |
| 5 | | | | | |
| 6 | | | | | |